Bianca and Sara met in grad school in 2008. The two became best friends while roommates during a month-long backpacking trip in Europe. The friendship grew romantic and the couple started dating on New year's Eve 2009. Their wedding day was also their sixth anniversary.
Both brides wanted the other to have the experience of a proposal. First, Sara flew Bianca's best friend into town and planned a day of activities. She even made sure that Bianca got a manicure and had her hair done before the proposal. Their house was under construction at the time so Sara filled the house with balloons that led the way to where she was standing with an engagement ring. Says Bianca, "It was perfect." For Bianca's counter proposal on New Year's Eve 2014, she hired a photographer to document the entire day.
The brides knew that a New Year's Even wedding was the perfect way to celebrate their union. "The goal was for family and friends to come enjoy a huge party with us on the day of the year where you can party into the night." They chose a black tie event with lots of gold details and twinkling lights. Say the brides, "We both love champagne, so we really wanted that to be a highlight in our wedding."
The brides rented an estate and draped the backyard with twilight lights, a black and white dance floor, and gold and glitter champagne bottles. "All of our vendors really pulled all the pieces together for us so that the backdrop of our wedding was absolutely perfect."
Bianca and Sara had large bridal parties with men and women from both of their families in it. Rather than choose who would walk down the aisle first, the brides flipped a coin before the ceremony. Sara's dad escorted her first, followed by Bianca and her dad.
Wedding Song: "You and Me" by Dave Matthews Band.
Say the brides, "That has been our song since the first month we were dating." Of their first dance Bianca adds, "Sara insisted that we take dance classes so that it would be choreographed. We paid for classes and practiced, and on the day of the wedding, we were both so flustered that neither of us remembered the steps."
Brides' Favorite Moments: "We got to eat in our room alone before we were introduced at the reception. We had a local burger joint cater our wedding and they left two cheeseburgers and onion rings in our room. We laughed so much while enjoying them in our wedding dresses."
Another favorite moment was the cake-cutting. Say the brides, "It was a very cold night in San Diego and the cake was sitting outside, where it froze! Our knife broke while we were trying to cut the cake. It was so funny, that we just started biting into the cake instead of trying to cut the piece out for each other. It made for some really great pictures."
Asked if there's anything they would change the brides say they simply wish they had more time and that the party could have gone on longer. "The whole wedding night was such a fairytale. It turned out exactly the way that we wanted it to and we just wish that we would relive it over and over."
Photos from their fabulous night after the jump, and if you need more, here's their stunning wedding video.
Bianca approaches Sara for their first look.
The dazzling brides take in each other's gorgeous gowns.
This kiss means they like what they see.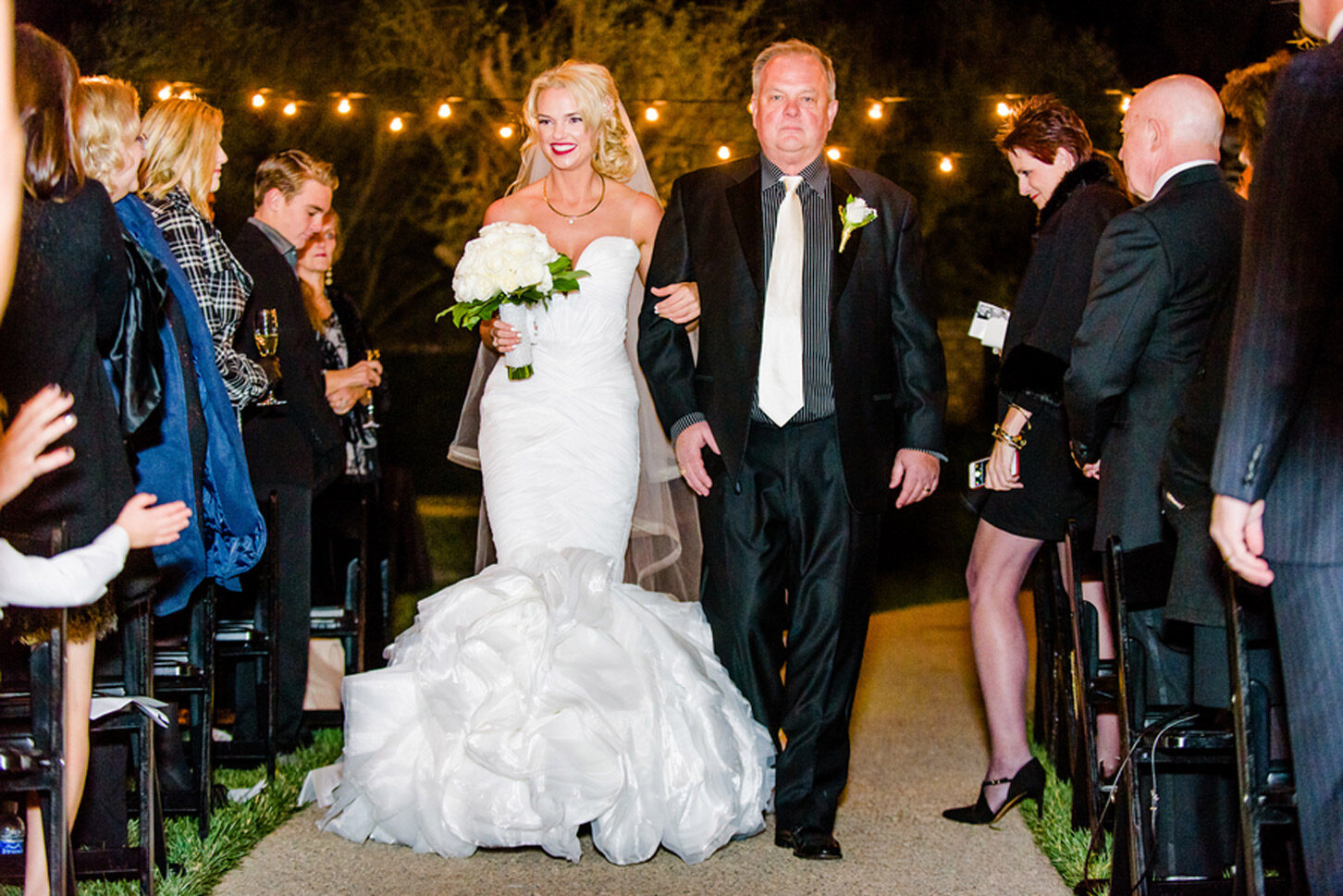 Sara and her father make their way to the ceremony spot.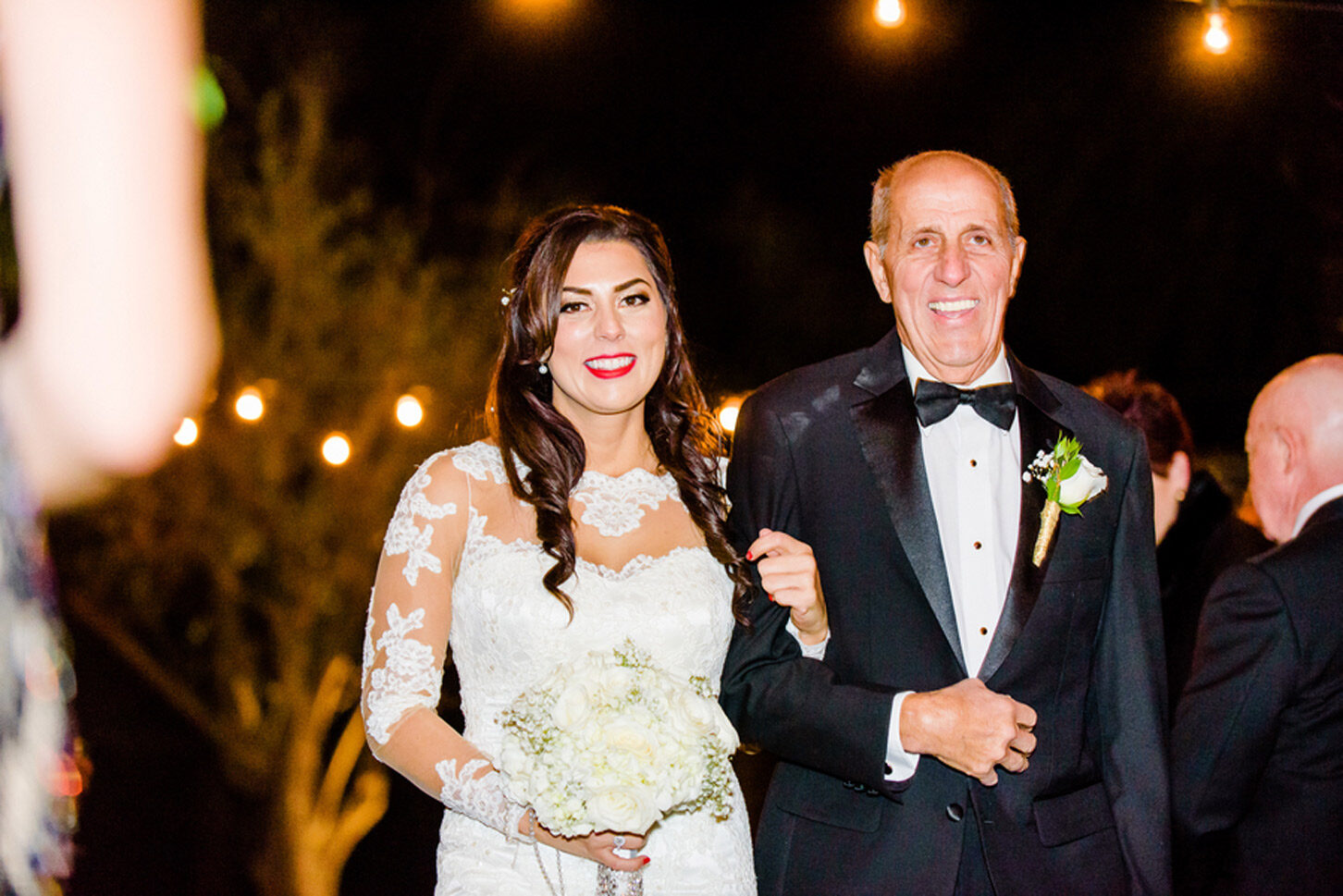 Bianca and her father follow.
A look of love as the ceremony begins.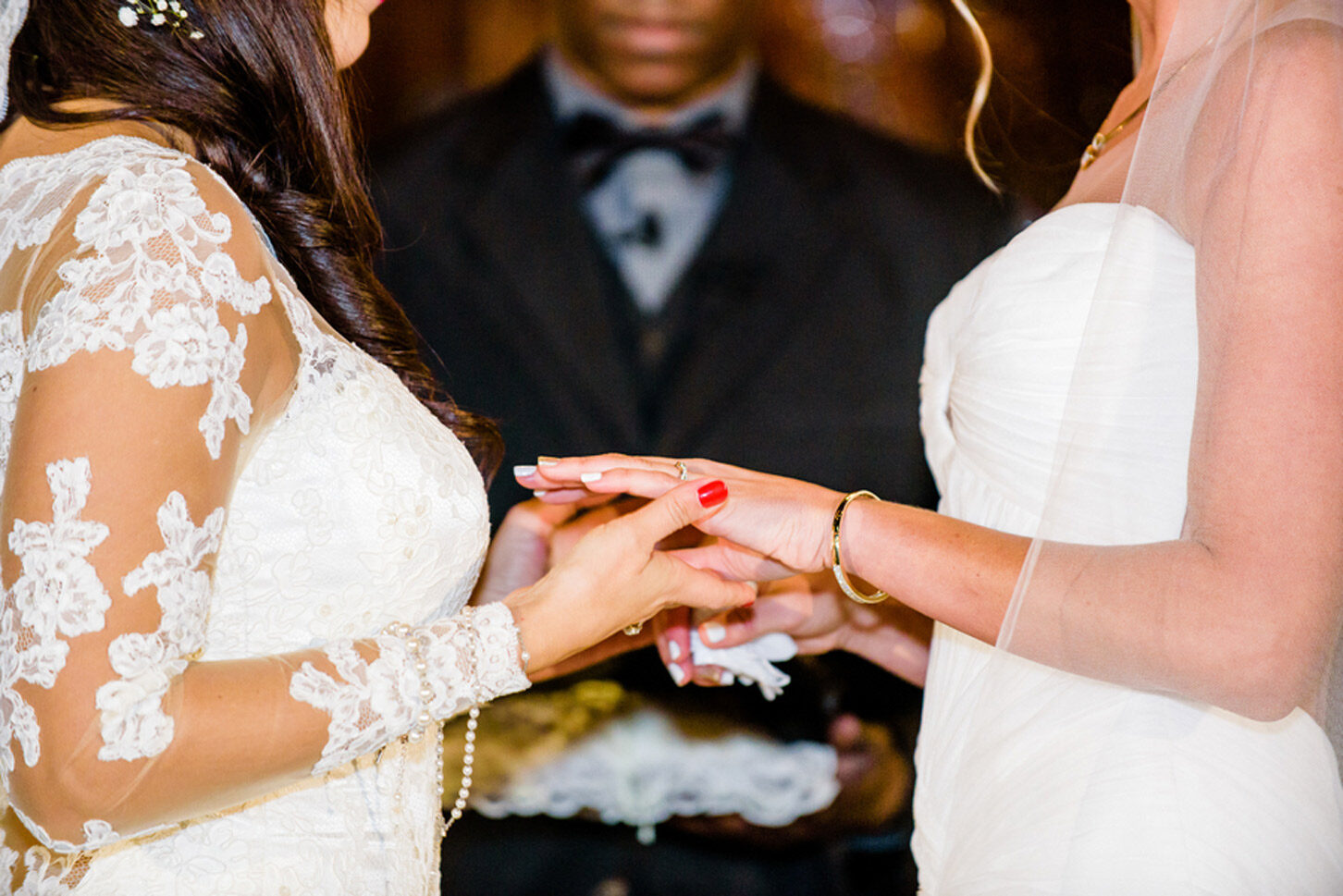 "But right now it's you and me forever girl And you know we could do better than anything that we did
You know that you and me, we could do anything"
A kiss makes it official!
Just married!
The lovely newlyweds.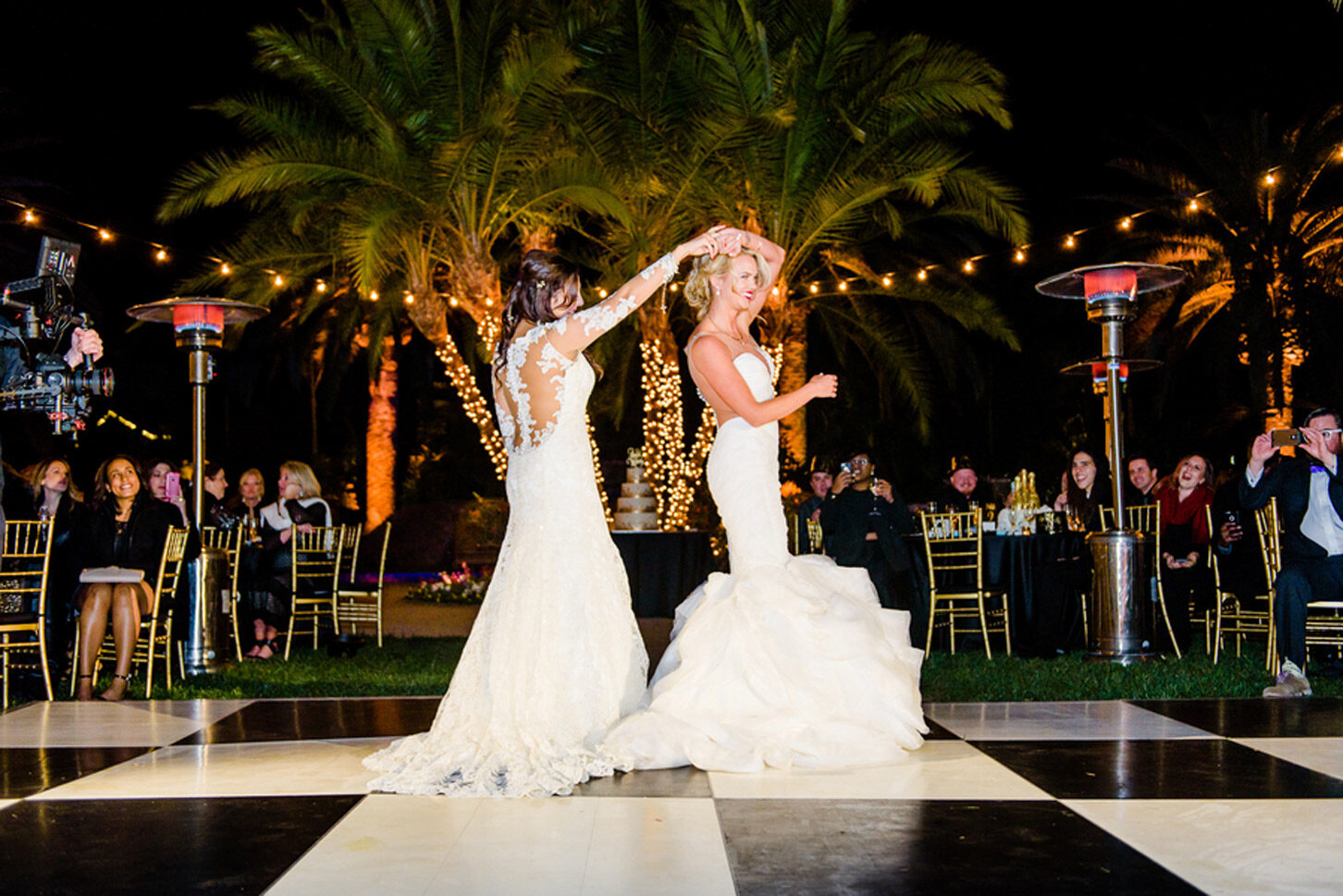 The brides take the floor.
Choreographed moves or not, all eyes are on Sara & Bianca.
Sara and Bianca toast their loved ones.
We love seeing the brides' laughter during speeches.
Sweethearts.
The brides attempt to cut their frozen cake.
But Bianca has a better idea.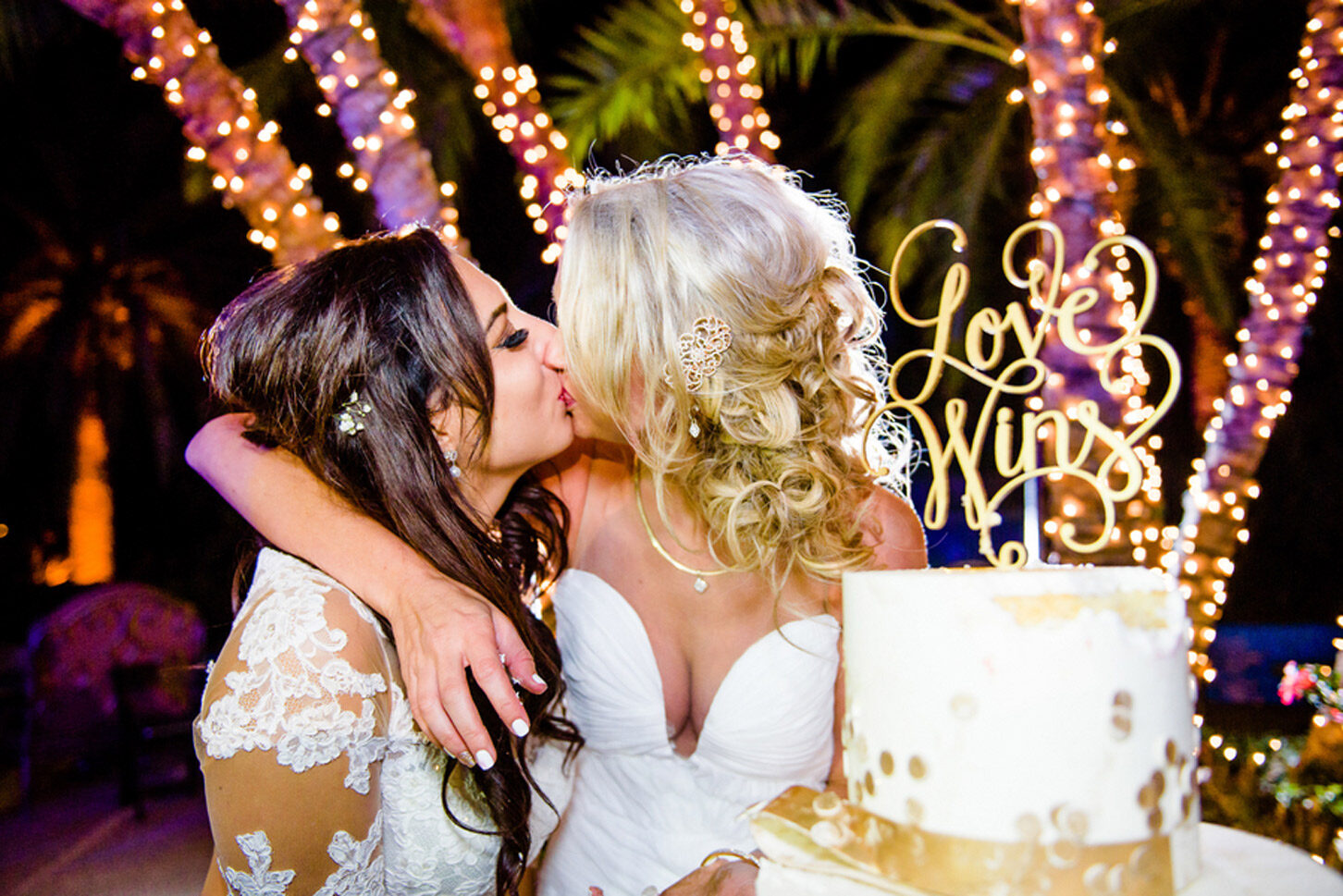 Cake Kiss.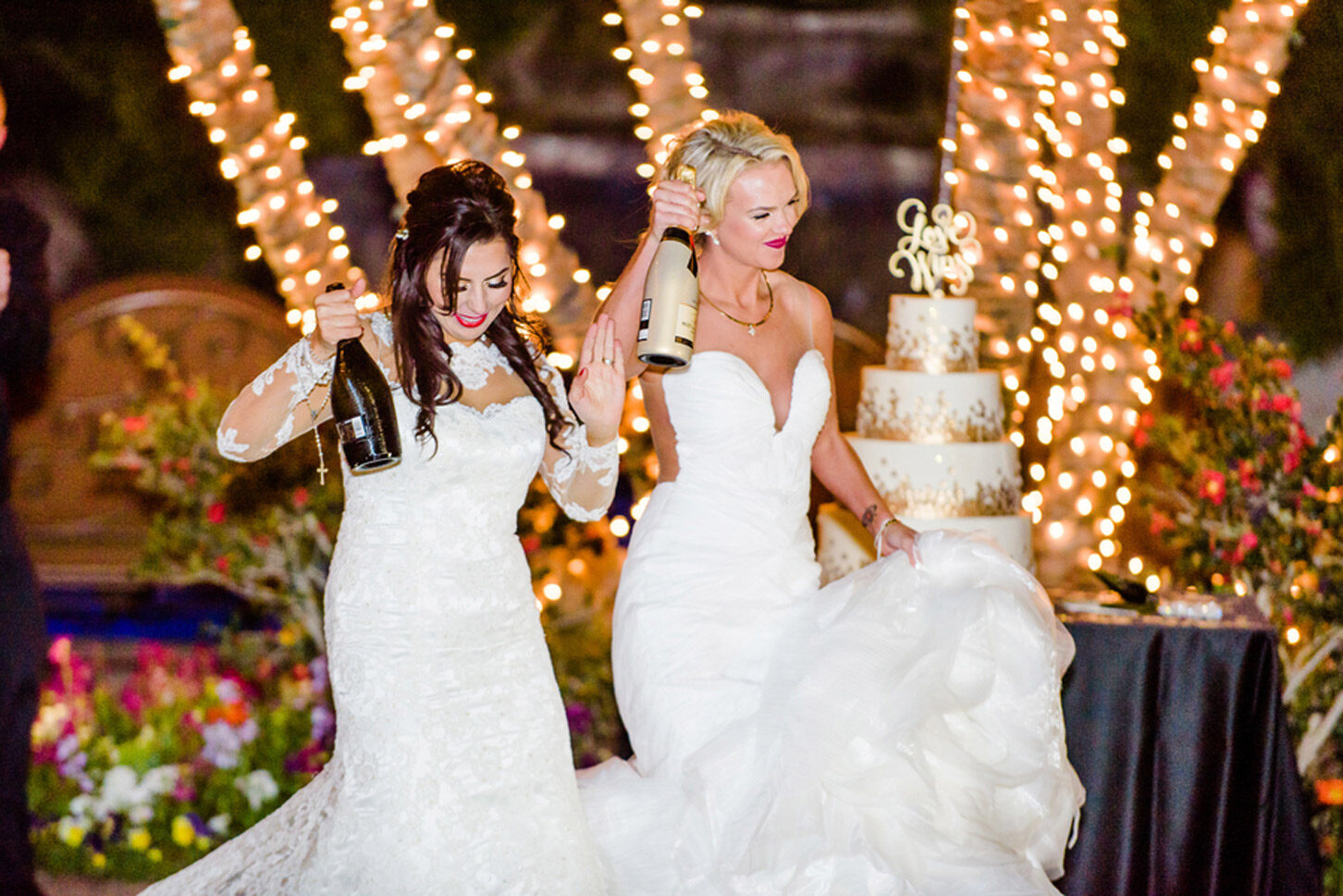 These champagne-loving-ladies head to the dance floor to celebrate with family and friends.
It's midnight and a new year has begun, but these newlyweds are just getting started.