May 5th 2015
Phoenix, AZ
Sarah and Stephanie met through mutual friends at the Rainbows Festival, which is held every year in downtown Phoenix at Heritage Square. A year later at the same festival and in the exact spot they had first met, Stephanie surprised Sarah with a marriage proposal. Seven months after that, they tied the knot at Heritage Square; the same place they met and got engaged.
Sarah & Stephanie had a small ceremony of about 26 people. The brides decided not to have an aisle because they didn't want to separate their friends and family. Guests sat together in a half circle in front of an arch, and the brides walked together through a little garden behind the arch.
Wedding Songs: The Luckiest by Ben Folds & When the Day Met the Night by Panic At The Disco.
Sarah's Favorite Moment: "Getting to share our special day and celebrate with our closest friends and family."
Stephanie's Favorite Moment: "The moment when I finally got to put that ring on Sarah's finger and say 'that all may see and know of my love for you.'"
The brides broke from tradition: Foregoing a wedding party, the bride's had their daughter stand under the arch with them to symbolize that this was not only our marriage but also the union of a family. They also decided against a wedding reception. "We went out to dinner with our ceremony guests. We are planning a larger reception in October on the anniversary of when we met and when we got engaged."
Special detail: "We tied an actual knot during the ceremony!"
Sarah & Stephanie had their rings custom made using pieces from Sarah's grandma's wedding band and using healing and meditation stones they picked out during a weekend getaway in Sedona, Arizona. The brides also chose to wear matching custom Converse printed with their wedding date.
They hired a pedi cab to transport them from their ceremony to dinner. "We got to ride off into the sunset."
Both say they wouldn't change a thing. "It was absolutely perfect and 100% true to who we are as individuals and as a couple."
The place where Sarah & Stephanie first met and later got engaged.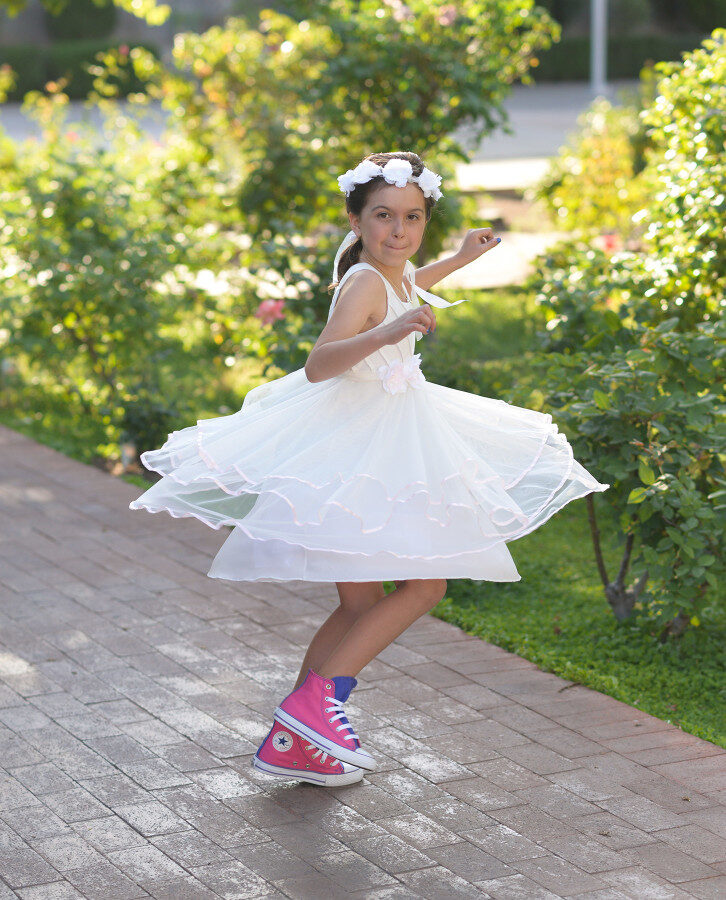 Their daughter does a twirl in her pink hi-tops.
Hand-in-hand.
Says Sarah, "We were looking for very casual and comfortable outfits so we decided to just get us all matching shoes with our wedding date, 5-5-15, on the back."
The ceremony under the arch.
The knot!
Sealed with a kiss.
Officially wife & wife.
A poignant and playful moment.
The ladies in the evening's chariot.
We think this one says it all.