Laura Leigh Abby is the founder of 2Brides2Be and feels it only fitting to show you some highlights from her own wedding. "Though our wedding has been featured in a few publications, the dream of 2Brides2Be developed from my own desire for inspiration. I knew we were not the only ladies out there trying to plan a wedding that toed the line between tradition and rebellion. Lesbian weddings mean two brides. That is double the beauty in my eyes."
Laura Leigh's wife Samantha describes planning the three-day affair as the most fun the couple has ever had. "I'm a control freak and we're both detail-oriented. We planned every minute of the weekend so when it finally came we could truly enjoy ourselves and trust our talented vendors."
View more of their wedding details in these great features:
Laura and Sam are living proof that opposites attract, and their wedding weekend was a celebration of duality. "Ours was the perfect storm of rowdy elegance."
The wedding was a weekend-long celebration that included Friday night mountaintop toast in wedding whites followed by an open-air BBQ and s'mores bar. To keep the night low-key the night was ended with paper lanterns and a viewing of Wet Hot American Summer on the Great Lawn. The wedding day began with brunch followed by a Bride v. Bride kickball game, then water sports on the lake before a waterfront ceremony, barn reception and tree-house after-party. Of course, their Pomeranians were part of the celebrations.
Wedding Song: We were both walked down the aisles by our fathers, to Patty Griffin's Heavenly Day. We came from either side so we arrived together. Our recessional was an acoustic version of "I Kissed a Girl," performed by our awesome band Tangled Vine. This song signaled: Everyone breathe. It's time to party.
Sam danced with her father to Eric Clapton's Wonderful Tonight. Laura danced with her father to September When it Comes by Rosanne and Johnny Cash.
Laura shares a Memorable Moment: We decided against a first dance as a couple – it just wasn't us. Immediately after the ceremony we went up to the beautiful mountaintop to take a few pictures, and Sam had arranged a surprise: Our guitarist and vocalist were up there performing Van Morrison's Crazy Love (One of my all-time favs) and we had a private dance up there. A moment that was ours.
Sam shares another Memorable Moment: We found ways to integrate our cultural traditions throughout the wedding. During the ceremony my childhood friend read an Irish Blessing, and we did a celtic hand-fasting, both part of Laura's heritage. I stomped on the glass at the end of the ceremony – it took me two tries in my treacherous shoes! Later we opened the dance floor with the Hora to Jewish song Hava Nagila. Laura and I were both hoisted up on chairs but quickly screamed to get down. Then her big Irish Catholic family and my big Jewish family and all of our friends started clapping and dancing in circles. There was pure joy in those moments.
Below: A few of Sam and Laura's favorites, plus some never-before-seen images from their wedding weekend, their proposal video, and their wedding video.
Samantha surprises Laura with a marriage proposal on August 6th 2012:
Samantha and Laura Leigh Abby Wedding Video:
Penny Lane Pictures on Vimeo. Footage by Well Spun Weddings
We leave you with some great advice from Laura's father: Go in the direction of your dreams and live the life you imagined. (- Henry David Thoreau)
The brides in white during their ceremony rehearsal.
The evening's toasts brought laughter, tears, and a few surprises.
Both brides collected separate pieces to create their wedding-white look.
With guests wearing whites the brides knew they'd need bibs.
The s'mores bar complete with Cedar Lakes' house-made marshmallows.
Guests found a blanket and a comfy spot to enjoy a movie under the stars.
After a wedding day game of kickball the brides were back on the same team.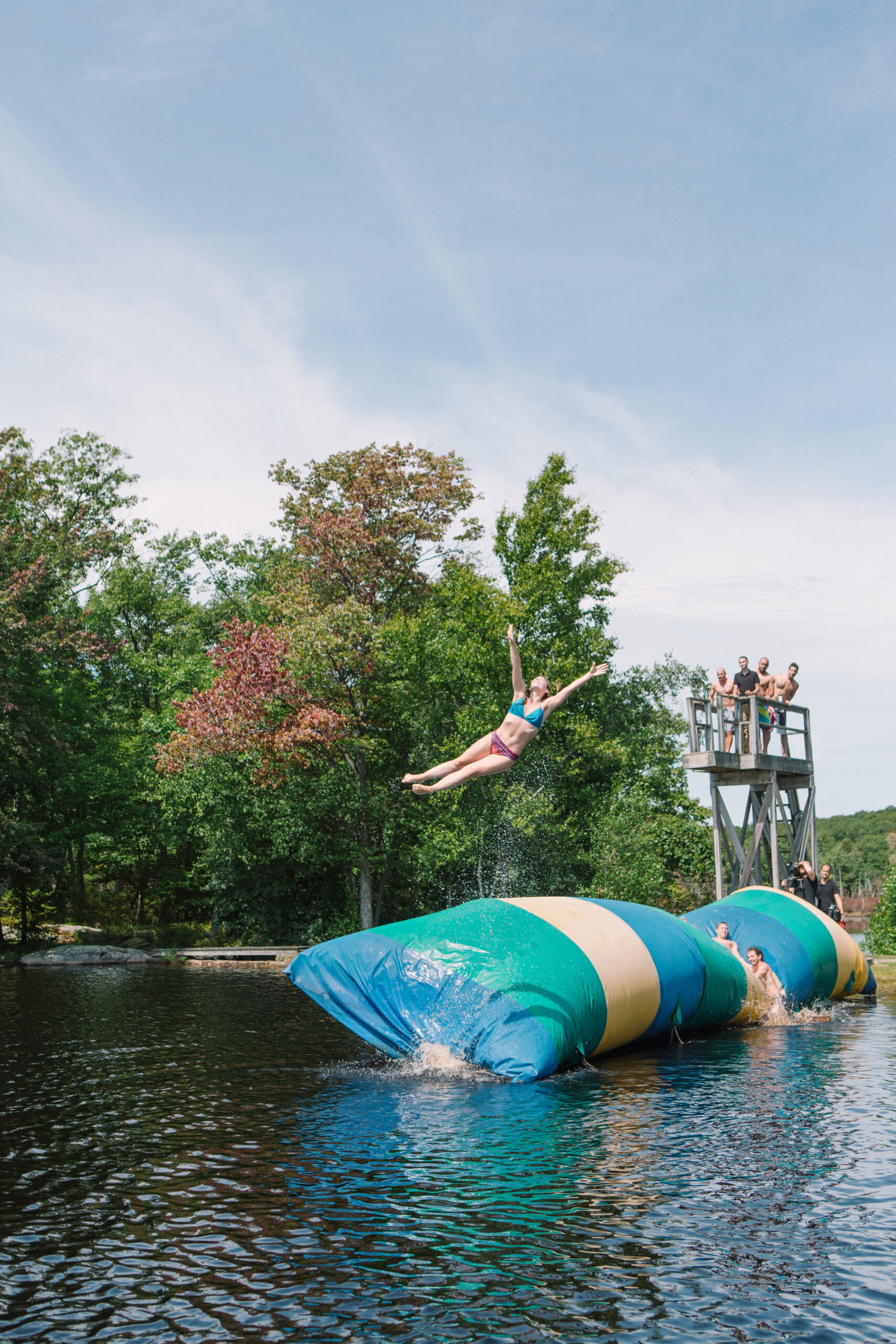 Guests enjoyed a zipline and "the blob."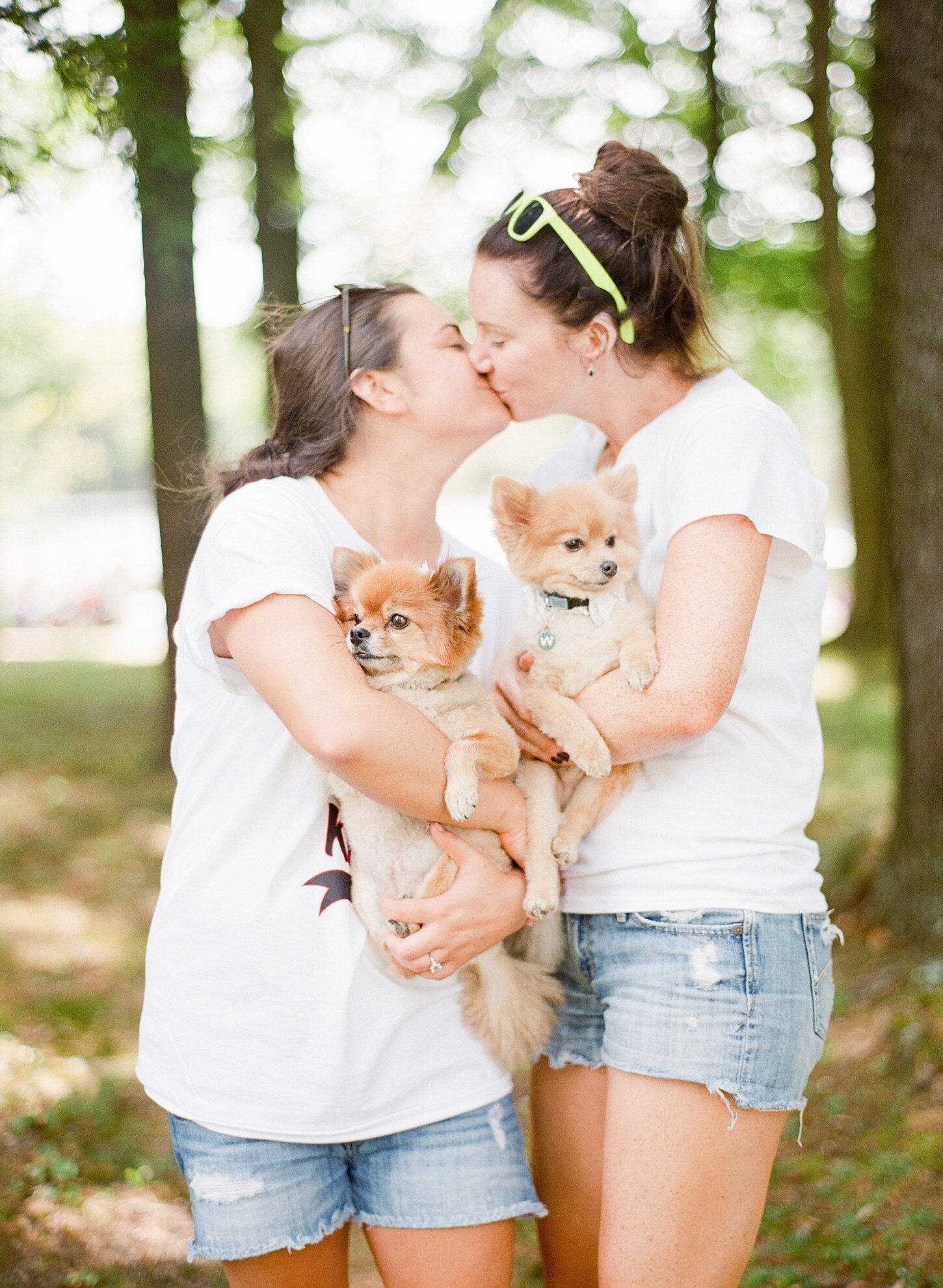 Stealing a kiss during a family photo.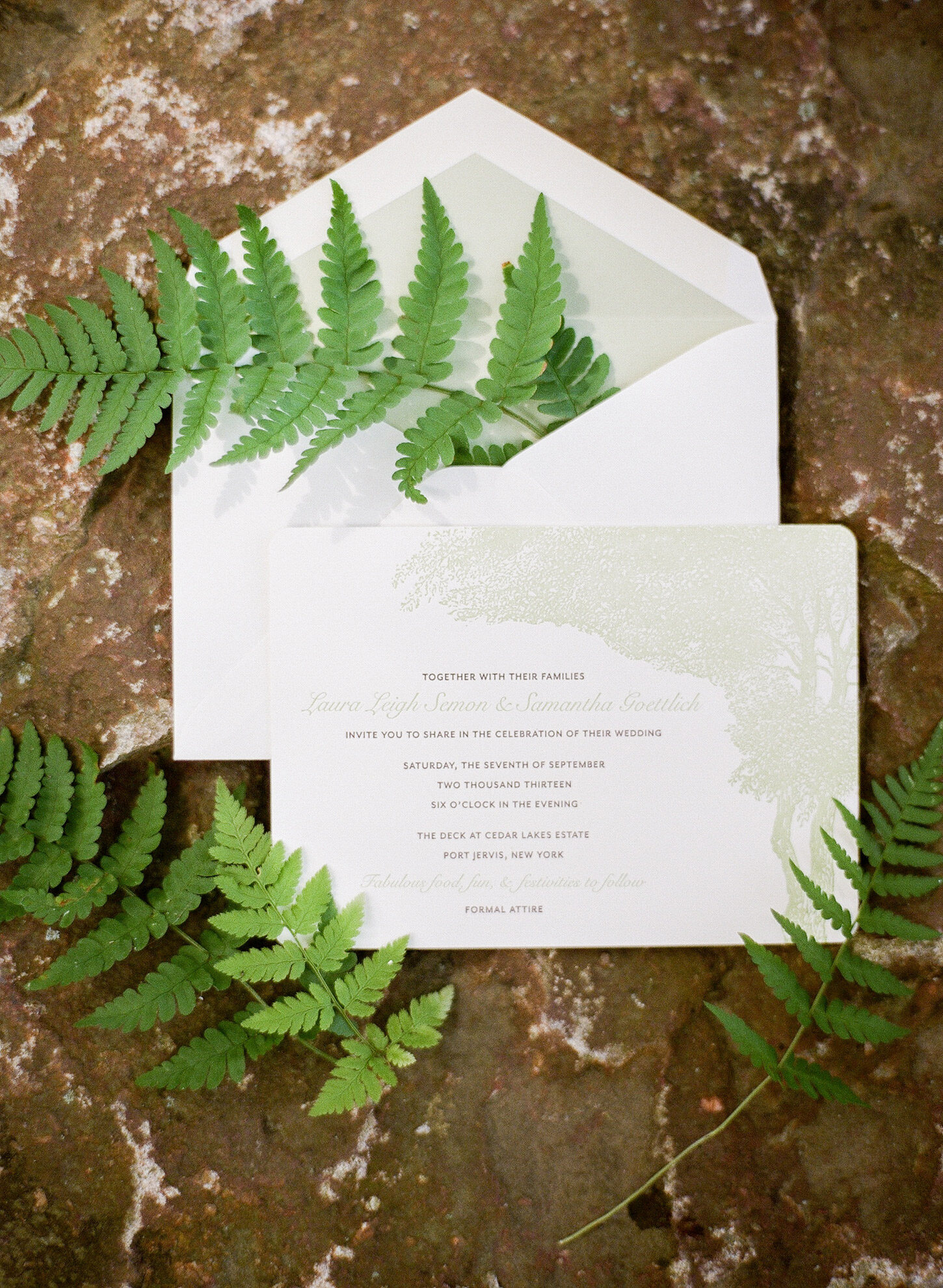 The brides designed their rustic invites with Brooklyn's Sesame Letter Press.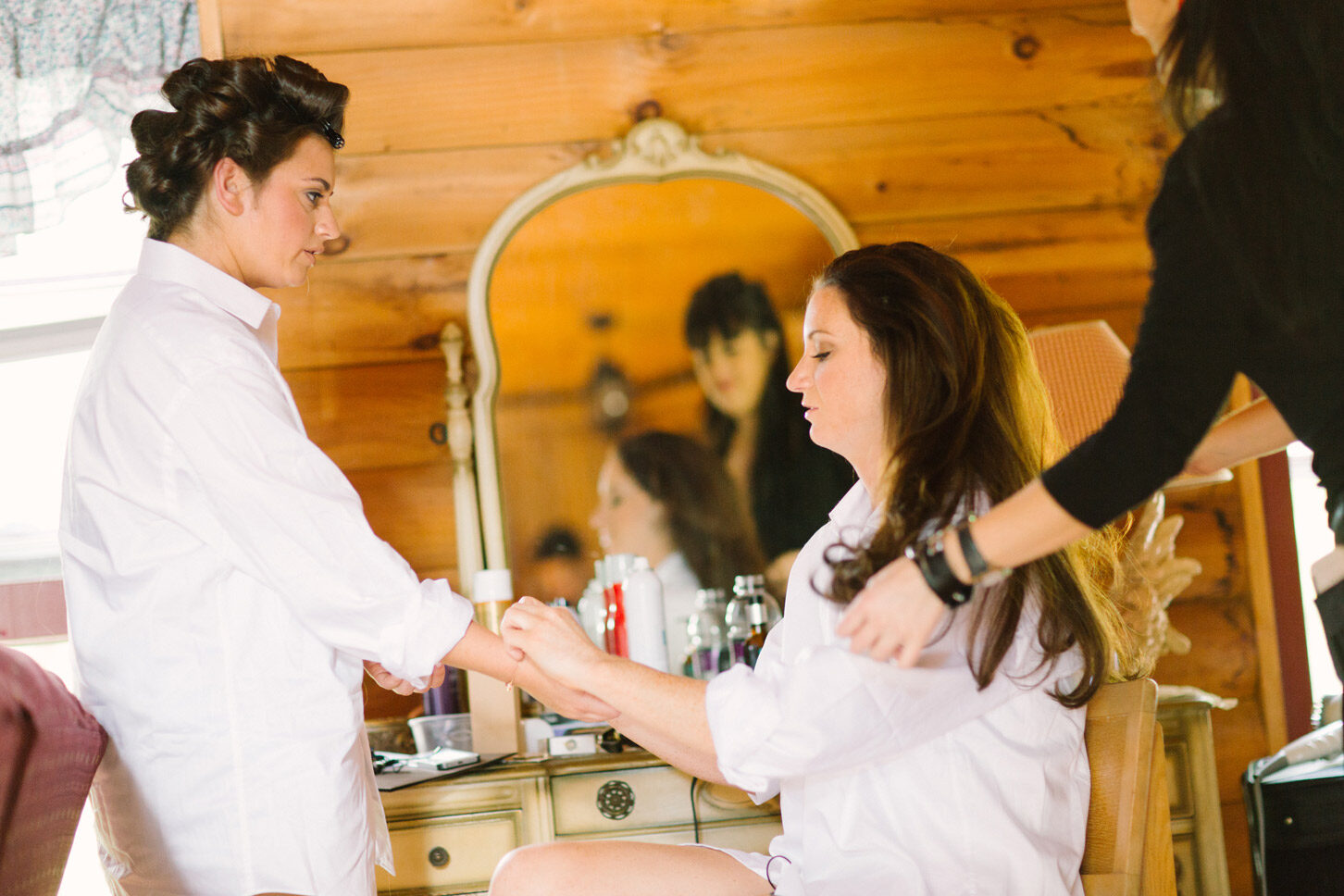 Just one bride helping out another.
Sam's brother/Best Man escorts her back to the cabin for some finishing touches.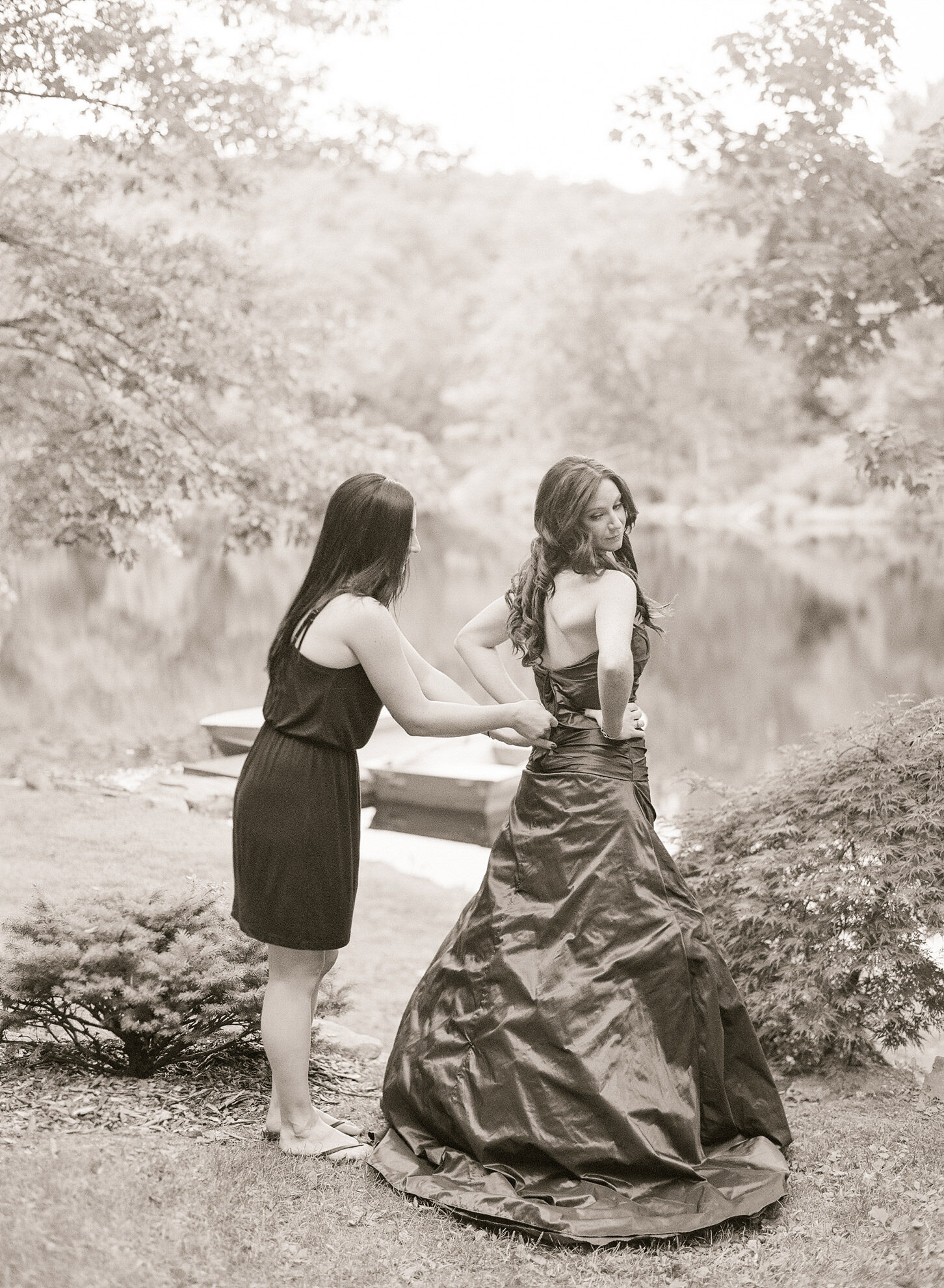 Laura's sister/Maid of Honor lends a hand.
Sam approaches Laura for their First Look.
The brides lean in for a kiss. Sam's bouquet is wrapped in some of the excess silk that made Laura's gown.
A moment in the sand.
Just giving some serious face.
Laura and her dad enter from the left. Simple yet lovely, baby's breath lines the aisles.
Sam's dad holds on tight.
Sunlight finds its way through the trees during the ceremony.
As their officiant pronounces them wife & wife, a kiss makes it official.
Just two married ladies wandering off.
Enjoying speeches from their loved ones.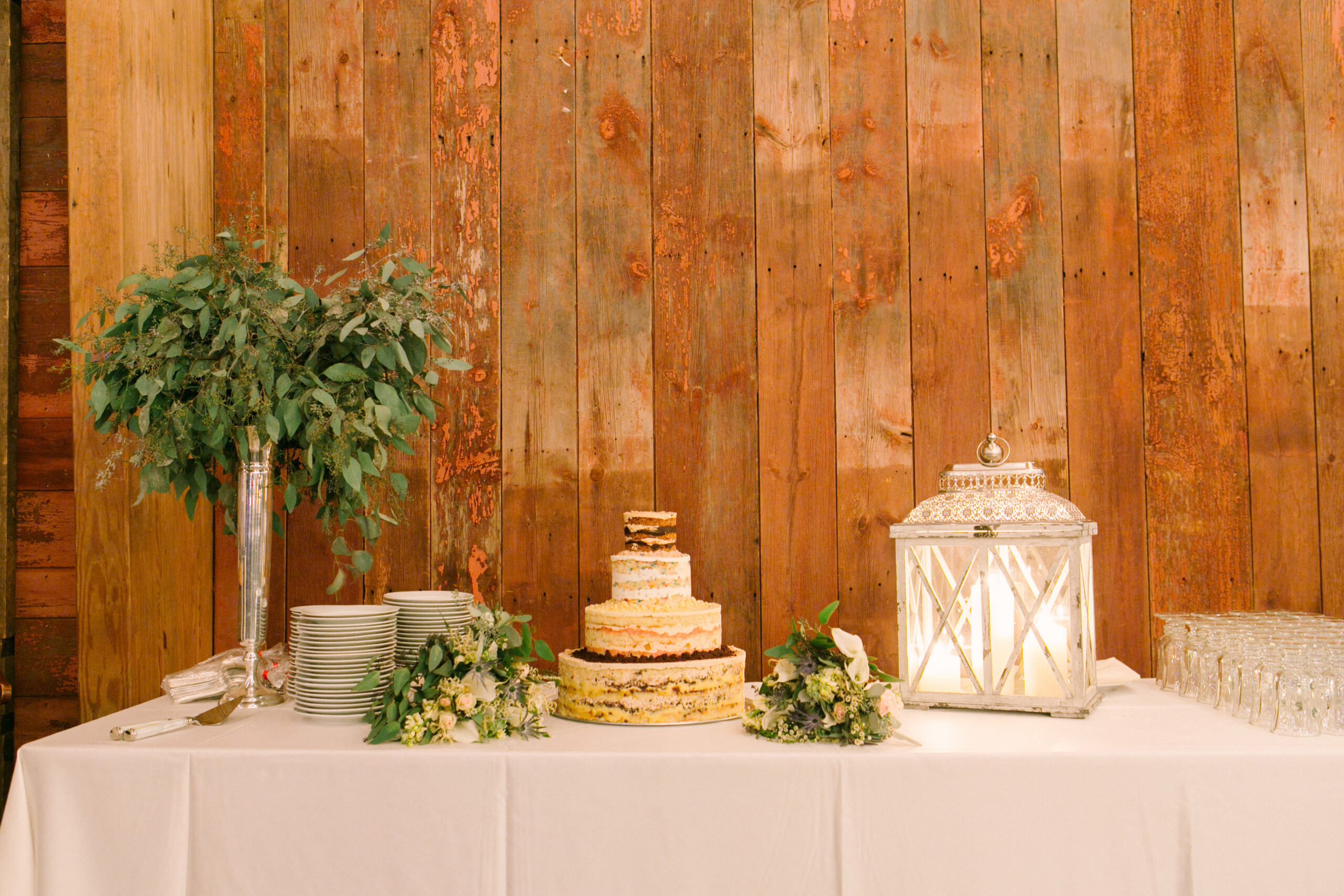 The luscious Milk Bar cake.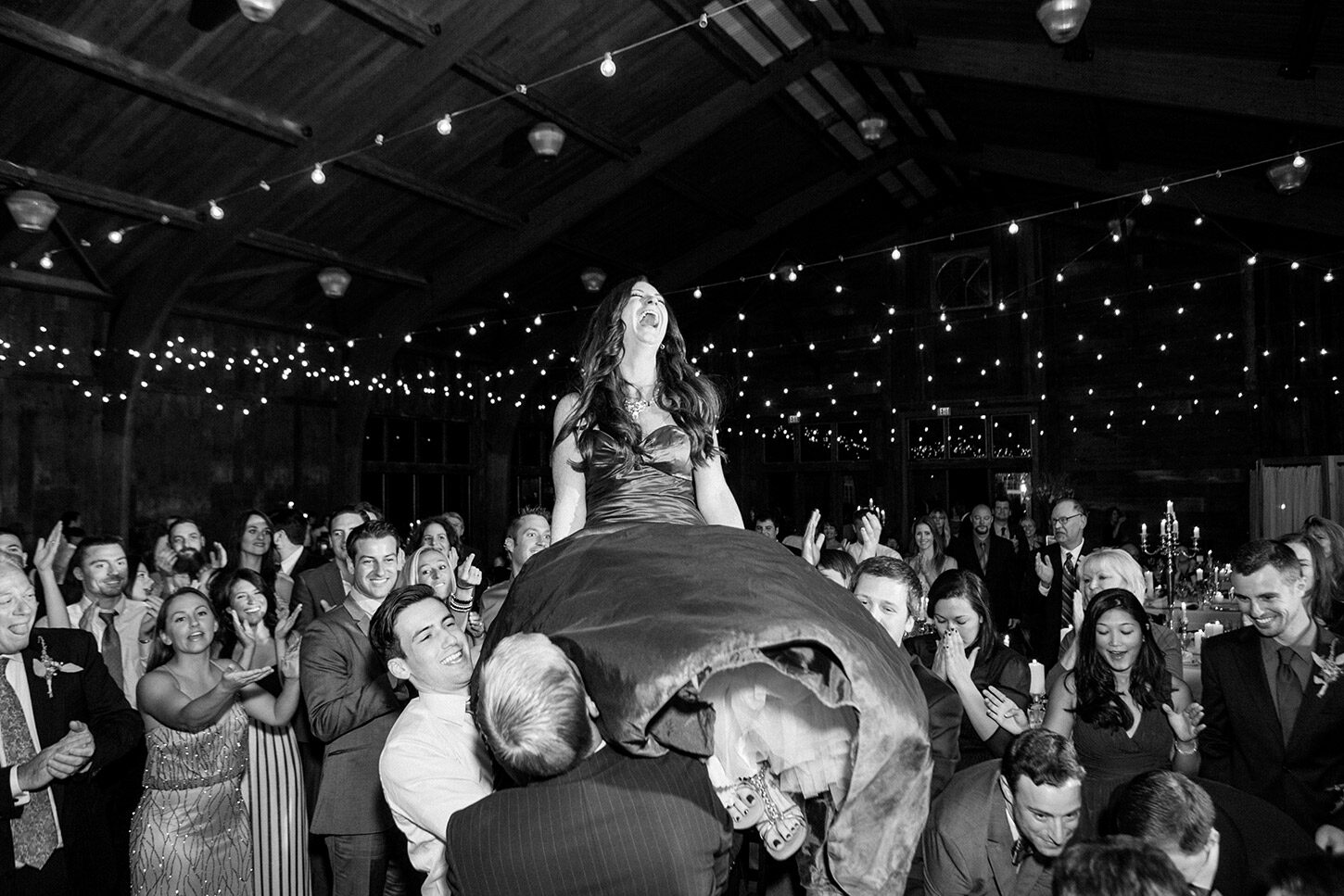 Laura hangs on during the Hora.
For those who couldn't drag themselves from the dance floor there were passed desserts, as well as shots of the Brides' favorite spirits.
Sam enjoys a moment with friends.
Sparkler exit lights the path to the after party … where things really got out of hand.