Okay, this sounds like a no-brainer, but if you're about to say "I do" to the woman you want by your side for the rest of your life, then you've already set yourself up for an amazing day.
MG Hair and Makeup courtesy of Alea Lovely Photography.
Trust that you've made the right decisions along the way.
It's important to know that the vendors you've hired to help make your wedding day perfect are all in. You've been making big decisions in the months leading up to this day so that when it finally arrives you'll know that you're in good hands. This is especially important when hiring your hair and makeup team. Beauty decisions can be stressful for any bride. Maybe you're particular about how you like your eyeliner and worry no one else can get it right, or perhaps you're a low-maintenance lady and don't want to look overdone. Whatever type of bride you are, choosing an artist to help you achieve your wedding day look can be stressful, and it's important that you put yourself in good hands. You want to know that your happiness is a top priority, which is why I'm a big fan of choosing professional services with a stellar reputation. I'm also a fan of  on-site hair and makeup services, which means you can do both your trial and your day-of beauty at your chosen location. MG Hair and Makeup is an award-winning, premier on-site hair and makeup service that brings the expert to you, arriving at your door with the tools and products to achieve your dream look. They can handle large bridal parties, mothers-of-the-bride, or just the brides themselves. They will cater to your every need.
What I like best about MG Hair and Makeup is that they are wholly committed to making sure you are looking and feeling positively radiant. Your hair and makeup trial is a chance for you to play with looks and make sure that you and your artist are on the same page. Try your hair up, down, play with lip color—it's all up to you! The icing on the wedding cake is that if for any reason you're unhappy after your trial—which you won't be—you can try another artist at no additional charge. Perfect bridal hair and makeup has never been so accessible. Did I mention that this team of highly trained artists love nothing more than two beautiful brides? Their experience with two-bride weddings helps them achieve complementary looks for you both, while making sure you each look perfectly you.
MG Hair and Makeup courtesy of Sarah Tew Photography.
Get plenty of rest and relaxation.
So much easier said than done. Sleep is scarce leading up to your wedding, so you can almost forget about it the night before. That's okay, as long as you give yourself enough down time to feel well-rested. Try to be low-key in the days leading up to your wedding; Make dinner at home, hit the gym and catch up on your favorites books or TV shows with your fiancée. Enjoy the calm before the big, fabulous storm of fun, and take care of your body and your mind. If the week before your wedding is a mess of facials, waxing and nail appointments, then just be sure to set aside some time for something that relieves stress, even if it's a few extra minutes in the steam room.
If you have pre-wedding events like a rehearsal dinner, shower or bachelorette party, treat yourself to a blow-out or makeup application. MG Hair and Makeup offers in-home blowouts, hairstyling and makeup for engagement photo shoots, bridal showers, bachelorette parties, rehearsal dinners, and other special occasions when you want to look your best.
MG Hair and Makeup courtesy of Christina Zen Photography.
Keep stress at bay.
It's impossible to pull off a wedding without a few stressful hiccups—that's totally normal! Just don't sweat the small stuff, and do your best to surround yourself with positivity. MG hair and makeup artists work double duty on your wedding day. They are trained to deflect stress while the bride is getting ready so she is calm and radiant when she walks down the aisle.
Being prepared will also help you stay calm, which is why MG Hair and Makeup has one of my fav Instagram accounts. They don't just post gorgeous wedding photos that I love to gush over, they also know the difference between how a particular hair style might look on say, both a blonde and a brunette. Their attention to detail ensures that you know exactly the look you're going for, and their professionalism means no surprises. You'll know that your faux-hawk or waterfall braid is exactly the right look for you.
MG Hair and Makeup courtesy of Lina Jang Photography.
Be present.
Don't skip healthy meals and definitely don't forget to drink up. If you've chosen the right woman, hired the perfect hair and makeup team and focused on your emotional and physical well-being, then all you have to do to look your best on your wedding day is show up and enjoy yourself. It flies by, so don't miss a moment.
MG Hair and Makeup courtesy of Jenny Kim Photo.
Click here for more information about MG Hair & Makeup.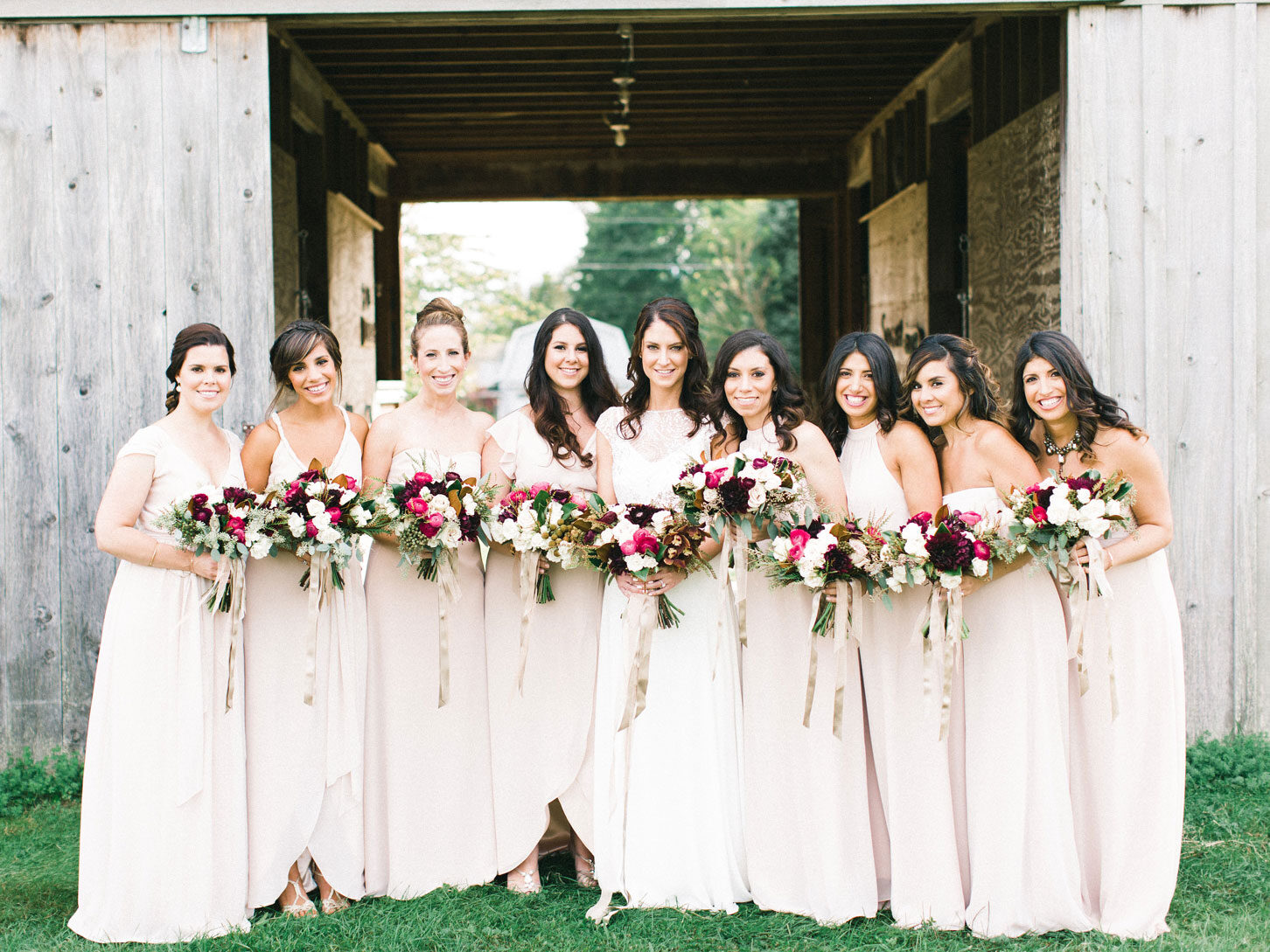 MG Hair and Makeup courtesy of Lauren Fair Photography.