October 6th, 2014
Longfellow Grill on the Mississippi River in Minneapolis, MN
Lindsay and Jackie both found a way to combine their love of flying with a love of helping others by joining the Air Force. In 2012 the ladies met during an overseas deployment as part of a team that airlifts wounded men and women out of battlefields and back home to the United States. During this time they became friends, and as they traveled and learned more about each other, they developed a closer relationship, and two months after they returned home they started dating.
They were both deployed again in 2014, this time to separate locations. Different time zones and work duties made communication difficult at times, but also made reunions that much sweeter. After returning home in autumn 2014, Jackie proposed to Lindsay.
Jackie: Drawn in by Lindsay's contagious laugh and compassionate heart, I knew that I wanted to be by her side for the rest of my life. While I was in Afghanistan last year, I was coordinating with our favorite brunch spot – Longfellow Grill in Minneapolis, MN, for their help in popping the question. I had a personalized coffee mug made for Lindsay so that after she finished a cup of coffee, she would read the inside of the bottom of the mug and say "Yes." Also while deployed, I learned that Afghanistan is home to many beautiful gemstones. Their mountains naturally produce a stone called tourmaline. In our military career Lindsay and I had flown over the beautiful snow-capped Afghan mountains time and time again. Since that is where our friendship began and the Afghan people we aided were so kind, I thought using that stone would mean a lot more than a diamond. I had the ring hand made in Afghanistan, the cup glazed and the brunch scheduled. I had planned to carry out the plan two days after returning home. Both longing for each other after serving in different locations, the welcome home embrace was indescribably one of the best moments in my life.
Lindsay: Coming home from deployment is always a joyous experience, and the feeling of having your loved one close to you again is something that can never be described. It is almost like falling in love all over again. One thing that we love to do when we come home is to eat our favorite foods we've been missing. Jackie and I love having brunch together. For us brunch symbolizes new beginnings, a new day, a shared meal, and shared experiences. One of our favorite places is LongFellow Grill in Minneapolis MN. I could not wait to spend a morning there when she came home, so we went right away. Jackie seemed to be anxious that morning and I was unsure why.
Jackie: I brought the mug to brunch, and as we were being seated handed it to the hostess and winked. She gave me two thumbs up while Lindsay followed the waiter to her seat. All of the members at Longfellow were in on it. It is important to note that Longfellow utilizes recycled mugs so each coffee cup has its own unique characteristics, (which I thought would go in perfect with my mug). Lindsay surprised me however, when she ordered tea instead of coffee. It was a slight problem, as tea would allow her to read the bottom of the mug before filling it up. The sweet server rushed back to the kitchen and moments later, brought our drinks, with the mug was turned upside down. Lindsay read the outside of it and exclaimed "Jackie, isn't this perfect?" thinking it was just a random mug that fit our little brunch (the outside of the mug says Brunch with my gal rocks!). Then as she began to fill it with tea, she paused. She placed it down on the table and looked over at me as I filled mine. She started to cry as I got down on one knee. I placed the ring on her finger as she wept, nodding yes. The entire staff came out by the bar clapping, smiling and yelling "She said yes!" The manager came out to my surprise, with complimentary champagne. They unexpectedly paid for our entire meal. It was awesome. Truly. The brunch prepared and the love shared by the staff of the Longfellow grill was humbling and wonderful at the same time. Other patrons clapped and cheered for us as well. It couldn't have gone any better.
Lindsay: When I read, "Marry me Linds?" inside the cup, I whipped my head toward Jackie for reassurance that this was not a joke. She smiled, and I immediately started crying with happiness! Our relationship is something I cherish. Jackie is more than just my significant other, she is my best friend. I am beyond lucky and blessed to have such an amazing person to think I'm cool enough to kick it with down life's path. I cannot wait to say, "I do!"
Jackie: We look forward to being married at Fort Snelling Memorial Church on the Mississippi River, with a reception following in an airplane hanger, of course.
Onboard during deployment in 2012. Lindsay and Jackie's medical crew carried on the military tradition of "flying" an American Flag onboard every aeromedical evacuation mission.
The cup.
The ring: handmade in Afghanistan, the rose gold matched Lindsay's heart with diamonds encompassing the watermelon tourmaline stone found in the mountains that they flew over during their deployments.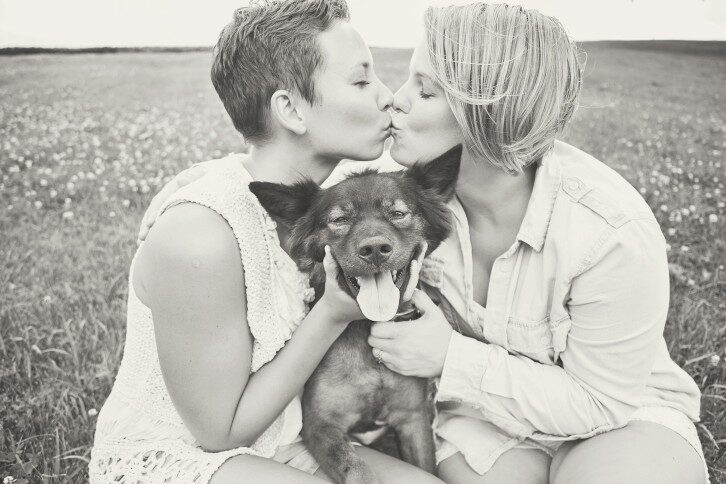 Engagement photo with their pup, done by Missy Haugen Photography in Alexandria, MN.
The joyful brides to be.
*Bottom two photographs by Missy Haugen Photography