April 09, 2016
Salt Creek Beach, California
Lindsey and Lakin met in Lakin's hometown of Riverside, California about 10 years ago. At the time, Lindsey worked at the University that was right down the street from Lakin's first gig—she's a singer/ songwriter—and Lindsey quickly became a fan, which began a long-standing friendship.
The couple was together just over two years when Lakin proposed on Christmas Day. Says Lakin, "I recorded a song I wrote for her and sent the song to her on Christmas along with the lyrics inscribed on paper." Lakin had already told Lindsey that she wouldn't be able to make it up to Washington to spend Christmas with her, but with the help of Lindsey's family Lakin had something up her sleeve. "I timed my surprise so that as she listened to and read the song I wrote for her, I set myself up downstairs in her parents' home. Once she was finished with the song, she was instructed by my note to go downstairs to the Christmas tree where I was waiting, and I asked her to marry me."
The brides planned an outdoor wedding at Salt Creek Beach in Dana Point. Say the couple, "We both connect with being outdoors, and we are both attracted to the beauty of water. As soon as we saw that venue, we knew it was the perfect place."
Both brides were escorted by their fathers. Says Lakin, "Linds and her dad went first and my dad and I went second. I think Linds wanted to see me walk down the aisle." Their families were a big part of their day, serving as escorts, matriarchs, flower girl, ring bearers and sole members of their wedding parties. They also had family help with the provision of food, dessert and entertainment. "It was so special to have our dearest ones be a part of our day."
Wedding song: "Take The World" by Johnnyswim.
The brides say the lyrics represent their relationship well. Though they did not have a first dance, says Lakin, "we did have a couple of moments that showed how awesome our musical connection is with one another. Lindsey had my fantastic singer/songwriter friend, Justin Young, surprise me during the wedding with one of our favorite songs, "My Favorite," and I also surprised Linds with a performance of her favorite Stevie Wonder song, "As," during the reception, which included family and a few friends."
Brides' Favorite Moments: "We cherished the moment that we kissed to seal our marriage as well as the speeches made by a few of our loved ones."
Say the brides, "About a week before the wedding, we not only started to see reports of rain, but thunderstorms and lightning. We loved our venue, but the risk we took to have a completely outdoor wedding left us with no plan B for an indoor reception." The brides took a gamble and decided to move their wedding three hours earlier than scheduled. "We are so happy and still slightly amazed to say that all of our guests and vendors were able to make our celebration despite the time change and the questionable weather." Lindsey & Lakin say that their day ended up being next to perfect.
Watch their wedding video here and see some of the highlights below.
Lakin takes a moment before the ceremony.
Her bride Lindsey adds some finishing touches to her look, including a lacy pair of Tom's.
Lindsey approaches Lakin for their first look.
It's all love.
Lindsey's father escorts her down the aisle.
Lakin and her father make their way through the sand.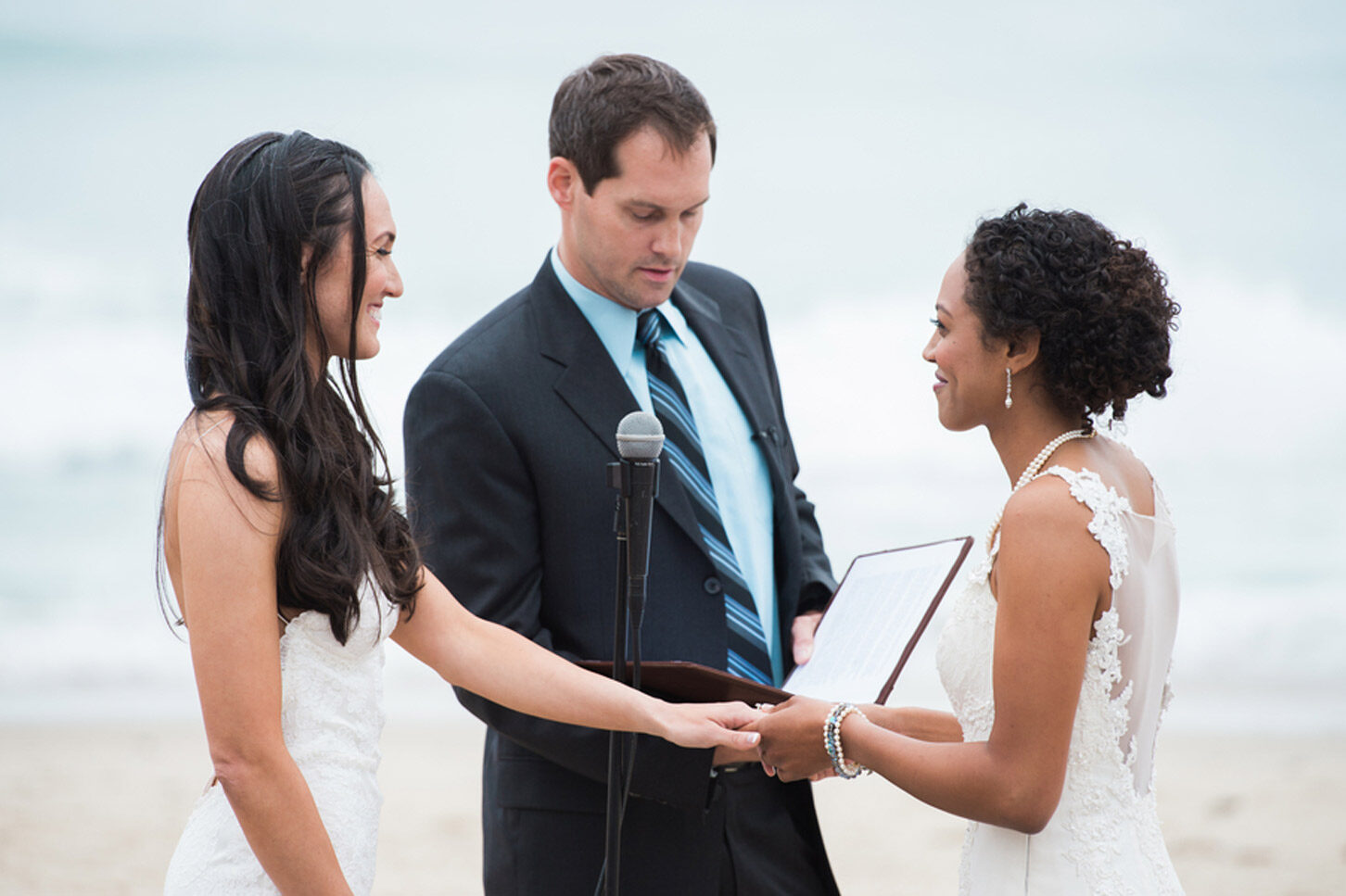 The brides join hands as their ceremony begins.
The brides are teary-eyed as friend Justin Young performs.
Clapping and filled with gratitude.
And a kiss makes it official!
Lindsey & Lakin are wife & wife!
Say the brides, "It barely ended up raining during our whole celebration and thanks to the clouds, Derek had pretty amazing lighting to work with and delivered even more beautiful pictures of our day than we imagined."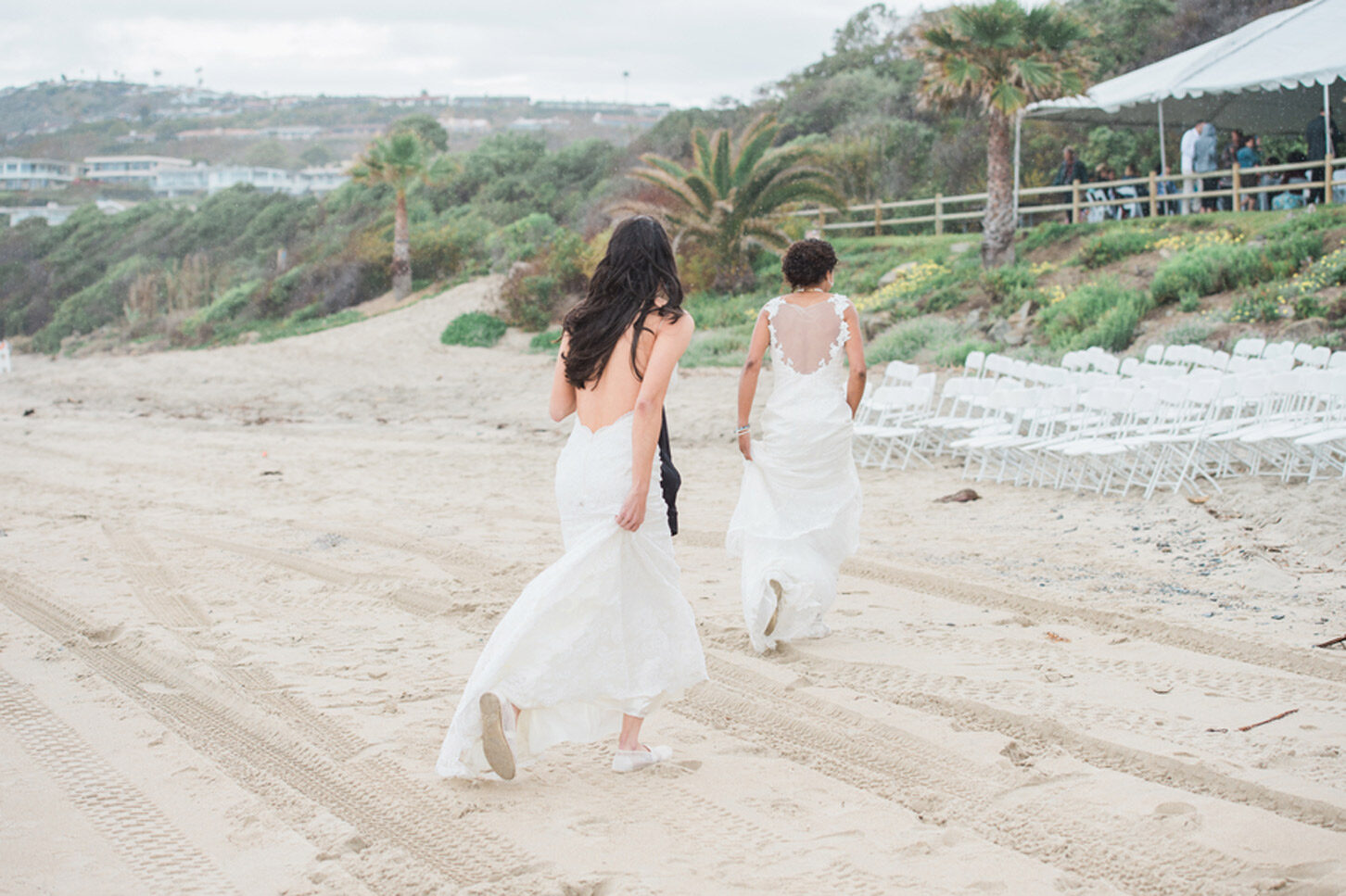 Time to celebrate!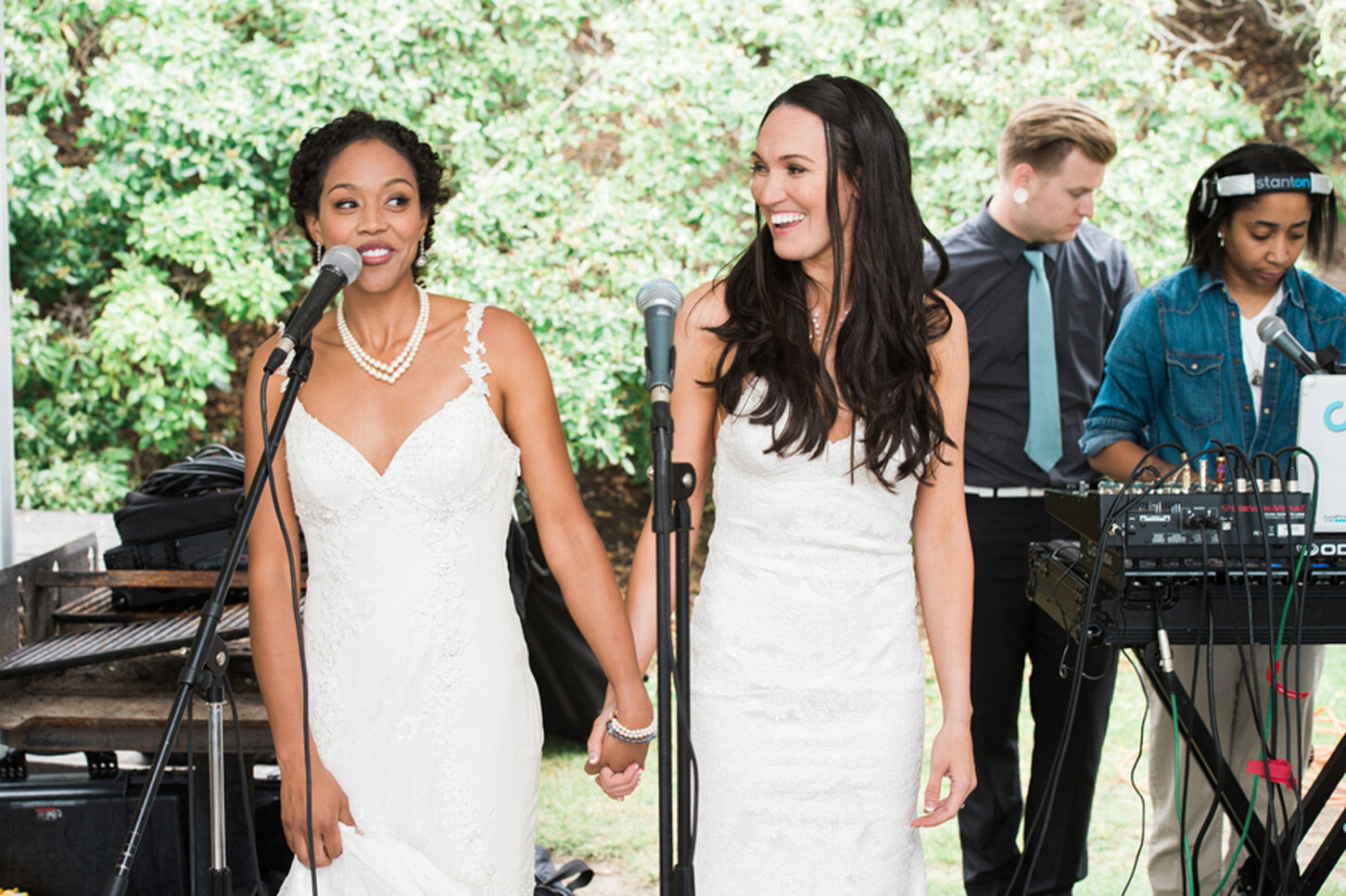 The brides take the floor.
Then Lakin performs for her wife.
Enjoying the speeches.
Who knew dessert went so well with a signed guitar.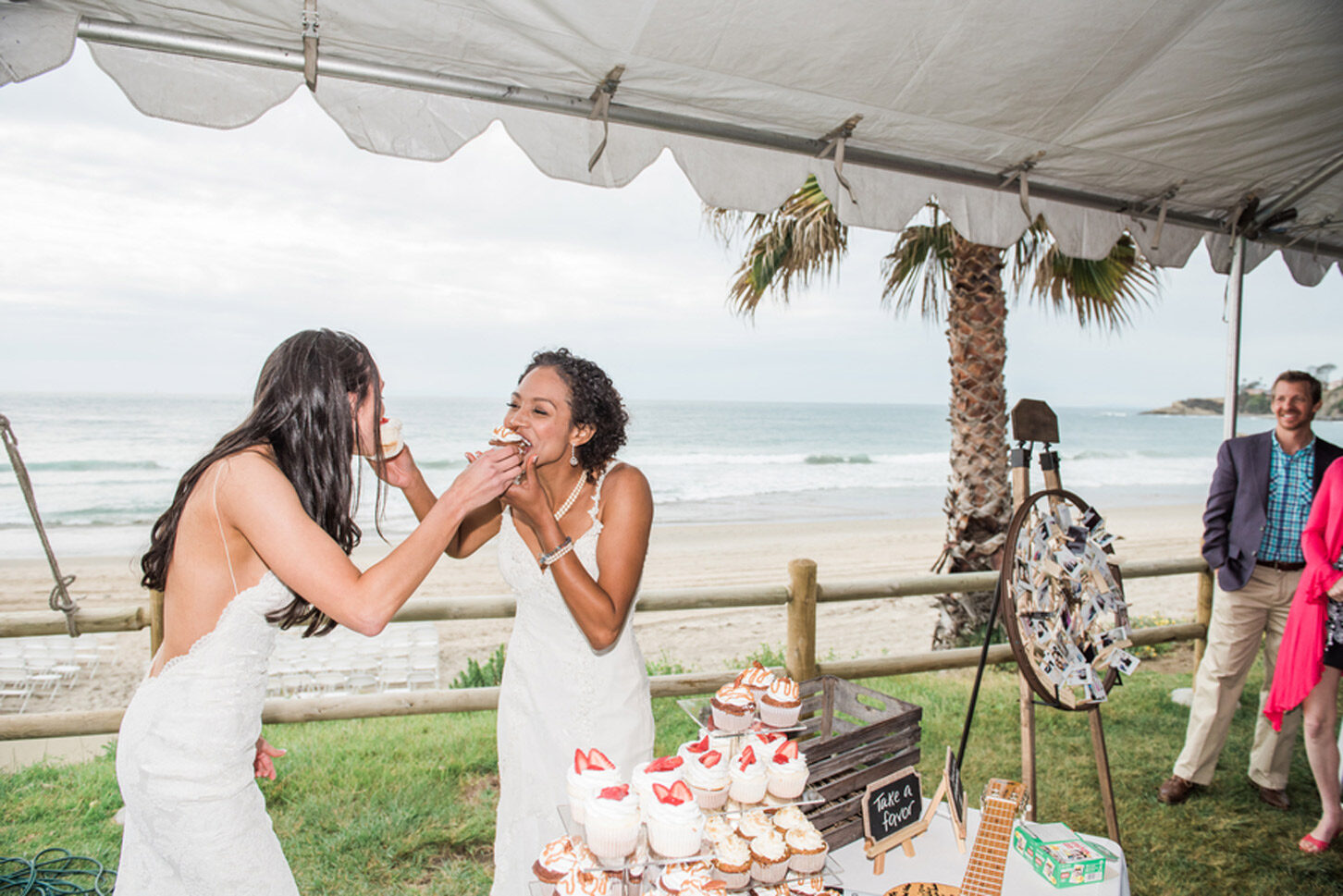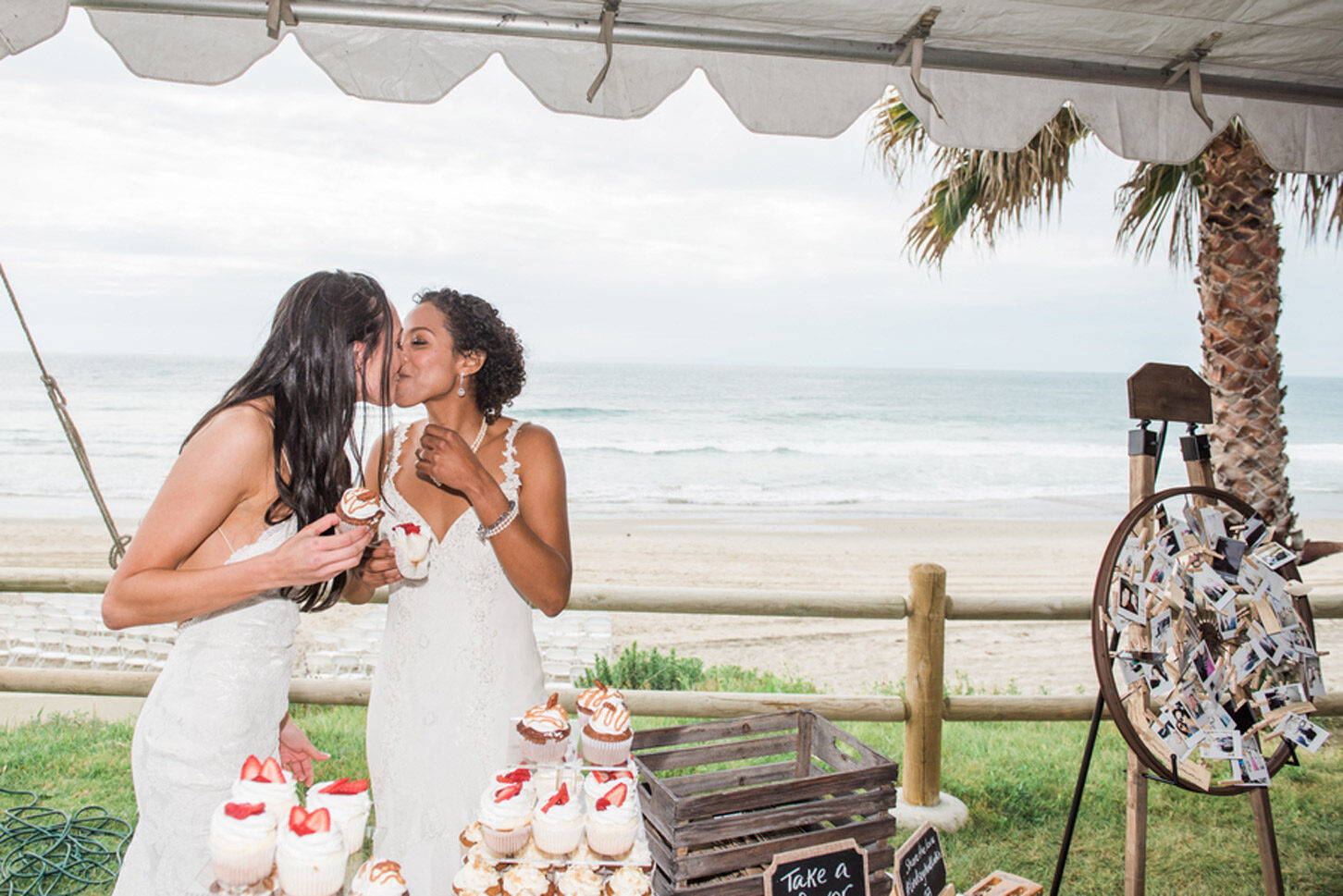 "Oh I can seeThe future you and me we last foreverIn the rising tideNo fear or fightThat we can't face togetherDarling You and Me
We can take the world"