Emma and Sandra met five years ago when Emma started teaching at the school where Sandra had worked for five years. Says Emma, "We shared common interests in our passion for teaching students with special needs and coaching sports." Though the two began as friends their relationship grew into much more. Says Emma, "I enjoyed every moment we spent together and always waited with anticipation for the next time. I never had feelings for a woman before but I completely fell for her. I wanted to pursue something more but Sandra was resistant."
Says Sandra, "Although I had developed romantic feelings as well, after two years of friendship I thought it would be best to remain friends. I was hesitant because we work at the same school and Emma hadn't been in a relationship with a woman before.
The chemistry between us only grew stronger and became something I couldn't resist anymore. It was the best decision I ever made."
The Proposal
Sandra popped the question on April 21st 2016 in La Jolla, San Diego.
Sandra: I knew early on in our relationship that I wanted to spend my life with Emma. We love to travel and usually watch the sunrise or sunset when we are on vacation. For this reason, I wanted to propose while the sun was setting.
Emma: This past April, Sandra planned a trip for us to California. We spent 4 days in Palm Springs and 3 days in San Diego.
Sandra: I researched online to find the perfect spot along the beach and hired a photographer to secretly capture this special moment. Before we left, I asked her mom for her blessing and I made Emma a photo book of all of our trips. I was so nervous the day of the proposal but I was able to keep it together.
Emma: Our first night in San Diego we enjoyed an early dinner overlooking the ocean followed by a walk down the beach. We found a spot to watch the sunset and Sandra laid a blanket out then handed me a photo album with pictures of places we traveled and all the things we've done together. After a few pages I had tears in my eyes. I was so overwhelmed with gratitude for this amazing life we share together.
Sandra: When she got to the last page I began reciting a letter I wrote her. I got down on one knee, pulled out the ring and asked her, "Will you spend forever with me?" Emma responded "Of Course!" Our photographer Derek captured the whole thing, and we took photos afterwards with the sun setting behind us.
Photos of the surprise proposal by Derek Chad Photography below.
The couple heads to the beach.
Sandra drops to one knee, surprising Emma.
She said yes!
Engaged.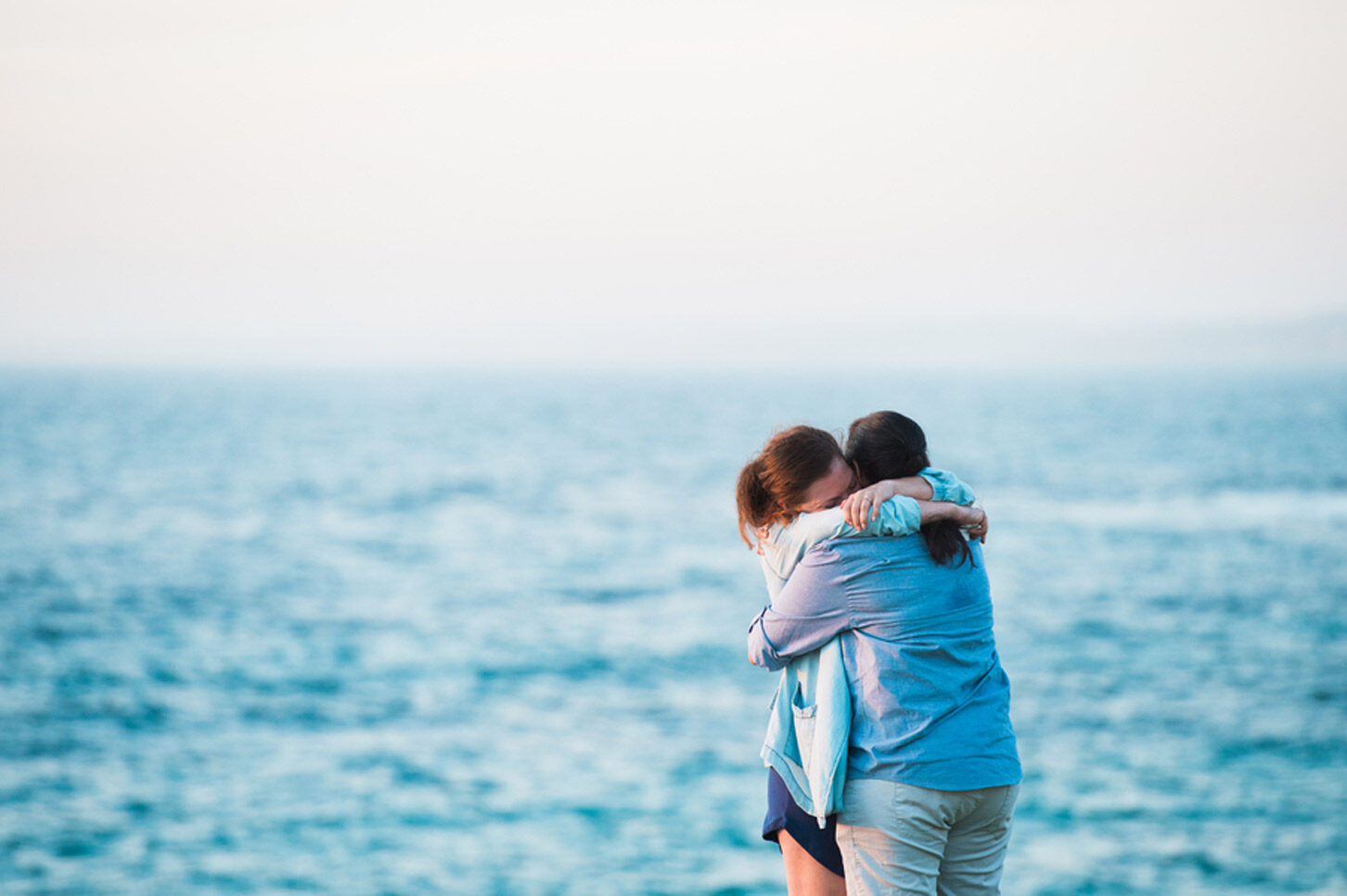 Such a special moment and Emma has no idea it's all being captured.
The book, the ring, and the perfect moment.
Stunning.
Onto happily ever after.